Poetic Perfection

Ranelagh truly does have a love of the spoken word, perhaps best illustrated through our annual Choral Poetry Performances. On Tuesday 27th March, our school was once again packed to the rafters with parents and carers who marvelled at the brilliant renditions of so many epically famous poems, from Alfred Noye's The Highwayman to Lewis Carroll's Jabberwocky.
Every year group was tasked with choosing a poem to perform aloud. With so many choices out there, and so many famous poets, it was tough to narrow it down. But alas, in grand style, Year 5 opened the show with a haunting rendition of Alfred Noyes' The Highwayman, setting the bar high right from the off. Thunderous applause greeted the children as they were quickly followed by an amazing performance from Year 2 of The Mock Turtles Song by Lewis Carroll, whose whimsical poems featured twice on stage. "Will you come and join the dance?" our parents were teased by the children as they swayed to and fro.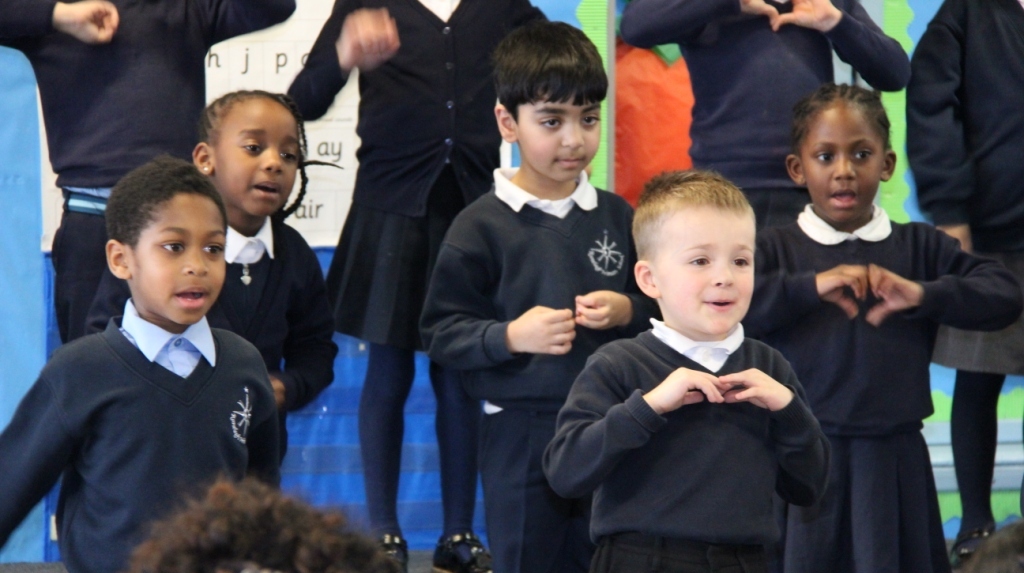 Nursery and Reception, two definite highlights of the show, each did more than one poem apiece, including Jack and Jill, Sing a Song of Sixpence, Monday's Child and an African lullaby. Year 3 played in between, reminding teachers what may happen to us all at the end of our careers through the story of Benjamin Zephaniah's Ghost Teacher. Year 1 and 4 were next, entertaining parents and teachers alike with amazing tributes to Roger Mcgough's What I LOVE About School and Robert Louis Stevenson's Block City. "What are you able to build with your blocks?" the children in Year 4 asked aloud, quickly replying "Castles and palaces, temple and docks" in chimed unison. Year 6 then capped off an outstanding show, with a brilliant production of Lewis Carroll's Jabberwocky.
The Ranelagh Community couldn't praise the children's performances enough, with so many coming for both the morning and afternoon shows. "The first performance was so good I want to come back and watch it again this afternoon," one parent commented. "Better than the West End," another added. Mrs. Lawrenson, Head Teacher, was equally impressed and led the standing ovations. "Every year we do this, I do not think we can get any better, and then I am proven wrong. Our children are wonderful performers, and it's amazing to share this with all our parents and carers." To see more photos from the performances click here.