FAST
F.A.S.T. Parents Graduate at Ranelagh Ranelagh Primary School is a Flagship School for 'Families and Schools Together' (FAST) in Newham. FAST is an award-winning, early-intervention programme that seeks to raise the educational achievement of children by engaging families to take an active role in school life and taking part in Project Oracle. The aim of F.A.S.T, which works in partnership with the charity Save the Children, is to bring "parents, children, teachers and the wider community together, to make sure children get the support they need to fulfil their potential at school - and in life." At the same time, the FAST programme benefits the parents and carers who take an active part too. Mrs Paul enthused, "I am getting lots of confidence and FAST has shown me how I can work with my children at home."
The current FAST group at Ranelagh have recently completed their third cycle of the programme, which takes nine weeks, and twenty-seven families have attended the activity sessions at the school, where they receive training to help them develop learning projects at home. Mrs Lidia Kahloon commented, "I loved playing with my children and enjoyed the emotion cards very much. We all enjoyed the different types of play very much."
FAST helps children improve their skills in maths, reading and writing as well as encouraging positive attitudes to learning. At the same time the programme hosts parents' sessions, including an activity called 'Raising Aspirations', yoga, talks about health topics and discussions about day to day life. The attendees share a meal with the other families, learn about school and community resources and establish informal networks of support.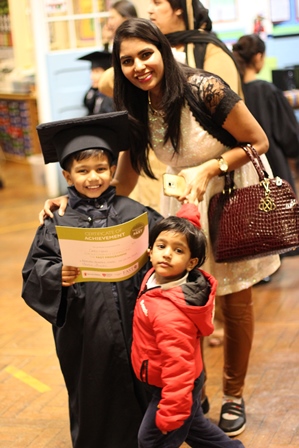 Ms Rose Movinga said of her experience, "I love FAST and I have learnt how to communicate with my children much better and I have made friends and have learnt so much." Ms Ruksana added, "We now play Ludo together. It was my daughter's birthday last month and I bought her lots of games and played with her."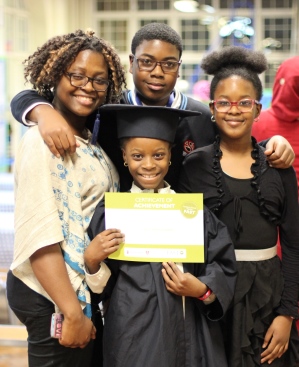 Twenty-two of the families involved were delighted to attend a Graduation Ceremony held at Ranelagh Primary School on the 29th January 2016. The event was a wonderful celebration of nine weeks of hard work and the recognition of the progression the families had made together and the individual successes of the participants. At the graduation, parents, carers, Ranelagh staff and pupils danced, sang national anthems, played games and shared a meal of delicious, ethnic dishes. A formal Graduation Ceremony gave Aisha Sheikh and the Ranelagh staff a chance to congratulate and applaud all of the families who had successfully graduated. Save the Children said, "FAST builds stronger bonds between parents, schools and communities."
Angela Tapscott, Executive Head Teacher, commented, "Literacy and numeracy attainment at Ranelagh are of paramount importance and it is our aim to include families and the wider community in ensuring that all of our pupils are fully immersed in the world of exciting, thought-provoking learning both at school and at home. The FAST programme at Ranelagh ensures that our pupils, parents and carers have access to advice, educational activities, resources and a network of support to fulfil this important goal."
Aisha Sheikh concludes, "The latest cycle of Fast at Ranelagh Primary School has been very successful and I am delighted that twenty-two families were able to Graduate at a wonderful ceremony at the school. It is very rewarding to see the Ranelagh pupils and their families dancing, singing and laughing together and at the same time building bonds that will enable them to support each other and, at the same time, ensure that the long term prospect of each child is greatly improved."
The F.A.S.T Programme
Ranelagh is one of the leading schools in Newham who has successfully completed the FAST programme (Families and schools together).
The programme is supported through the charity ` Save the Children'. The school is now an accredited site for Families and the whole programme was evaluated through Middlesex University.
In 2012, 26 families graduated from the FAST programme and over £20,000 were funded through groups such as Lloyds bank and Morrisons. This went towards the on-costs, registrations, evaluation and training.
In 2013-2014 – Ranelagh completed its 2nd cycle of FAST successfully. 27
families joined the programme and 21 families graduated successfully in February 2014.
We began 2015- 2016 FAST in November. Thank you to all the teachers, Csps and families who are participating.