Home Learning
HOME LEARNING - A MESSAGE FROM MRS LAWRENSON.
I would like to wish you all well and I need to say that if you are worried about home learning , please do not be. Having four children myself, I absolutely understand the difficulties of this. As well as trying to keep things as usual as possible, you are also managing your own anxieties about the virus. The Ranelagh team understand this completely.
If you are struggling with routines, behaviour or anxiety , please ring the school and one of our teachers will contact you. Please remember you are not alone : most parents and carers have the same feelings.
The teachers are putting assignments on google classroom daily - the children can complete this. If you need further support, you are able to send questions and queries to our very own Mr Jenkins on info@ranelagh.ttlt.academy, be sure to include 'Google Classroom' in the email subject.
If you can not access google classroom, then you can phone on 020 8534 4364 or email the school and we will try to make other arrangements.
Links can be found here:
Ranelagh's home learning Page Click Here
Google classroom - where you will also find many other links to home learning. Click Here
Alongside this , you can ask your children to help you out around the house, make things out of recycling waste and good old fashioned reading and storytelling.
Keep Safe , Keep Well and thank you for all that you are doing.
Mrs Lawrenson
About Ranelagh Primary School
Ranelagh is a happy, vibrant and successful school in Stratford, East London. We are at the heart of our culturally rich and diverse community. We have the highest aspirations for all our children and believe in giving them a full, varied curriculum that is exciting and equips them for life.
Our on-going success as a high-achieving school, our commitment to combining traditional values of good manners with excellent behaviour and our enriched curriculum means that all Ranelagh children can "Be the best that they can be."
Ranelagh is one of the founding schools of The Tapscott Learning Trust. This is a trust based on partnership ensuring the best possible quality education for our children and meeting the needs of our local community.
We hope that you enjoy our website and if we can be of any further help, please don't hesitate to make direct contact with the school. Our office staff will give you a warm welcome, and will offer a wealth of information.
Yours sincerely,
Mrs Shella Lawrenson,
Head Teacher
and
Mr Paul Harris,
Chief Executive Officer for the Tapscott Learning Trust

School Policies
| | |
| --- | --- |
| | Ranelagh Primary School has a wide range of policies. A selection are provided here for you to view. However, should you wish to view these or any other Ranelagh policy, please ask at the main reception. |
Ofsted Report
| | |
| --- | --- |
| | Ranelagh Primary School was last inspected in November 2013. Click on the link to access our latest report. |

Special Educational Needs
As part of the Children and Families Act 2013, Local Authorities are required to publish a 'Local Offer' which sets out support that is available for children and young people with Special Educational Needs and Disabilities (SEND) in the local area.
Newham's Local Offer is available on the Newham website and tells parents how to access services in their area and what to expect from these services. Alongside this, schools are required to publish information about their arrangements for identifying, assessing and making provision for pupils with SEND.
In response to this, we have put together our Local Offer for Ranelagh Primary School. It describes the arrangements we make that are 'additional and 'different' for pupils with SEND. This SEND information reflects the current arrangements we have in place at school to identify how we provide for and monitor children with any special educational needs. This Local Offer will be reviewed annually.
Admissions
Admissions to Ranelagh Primary School (Reception to Year 6) and Primary to Secondary Transistions for September 2016: The London Borough of Newham is the Admission Authority for this school who organise all admissions centrally. Application forms are available online or through contacting the council 020 8430 2000.
Find out more information about Admission arrangements.

Childcare
The government is introducing new ways to help parents with childcare costs. Whether you have toddlers or teens, you could get support by clicking here.
As well, you may be eligible for 30 hours of funded childcare for Nursery aged children (ages 3 and 4). For further information, see attachment below.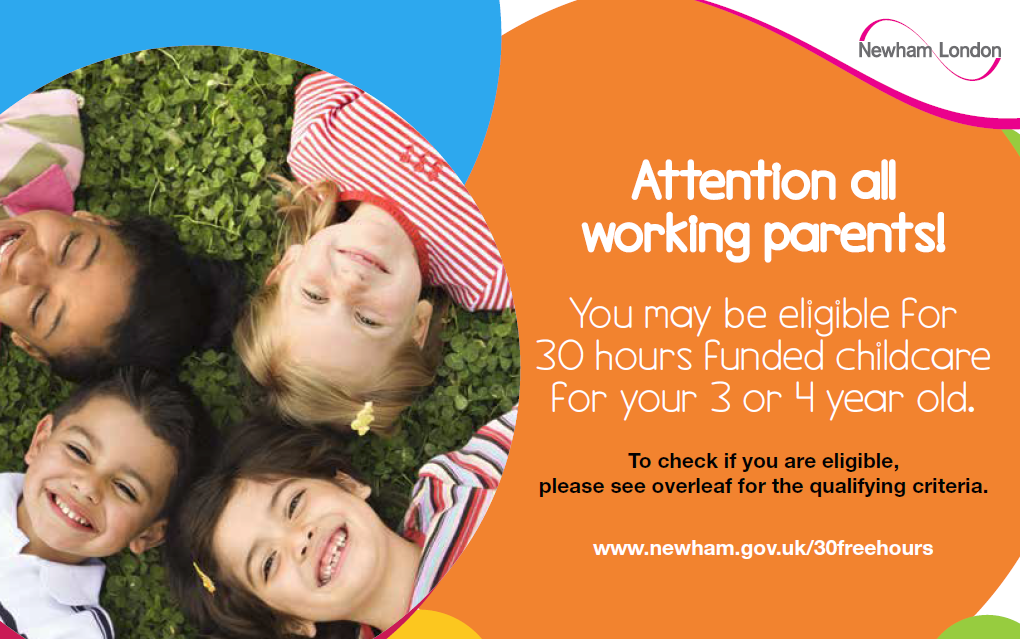 Free School Meals
Did you know the government gives additional funding to schools for those children entitled to free school meals? To find out whether your child qualifies for free school meals please fill in the details requested here.
Likewise, you can check your childs eligibility for free school meals through Newham council. For additional information click here.

Pupil Premium
The pupil premium is additional funding for publicly funded schools in England. Please see our Pupil Premium Report for 2018-19 by clicking here.
Sports Premium
The PE and sport premium is designed to help primary schools improve the quality of the PE and sport activities they offer their pupils. Please our Sports Premium report for 2018-19 by clicking here.